Our range of self-extinguishing adhesives is expanding further: we have added the first acetovinyl glue, PROTOVIL M31 to the product line.
But this is not the end of the story. Our customers know well that one of our daily goals is to develop products that are safe for people's health and comply with relevant technical standards.
The best way we can demonstrate and attest to our commitment is through certifications. This is why today we want to tell you about our new product PROTOVIL M31: a RINA-certified product, which from July 2023 is also a GEV-certified product.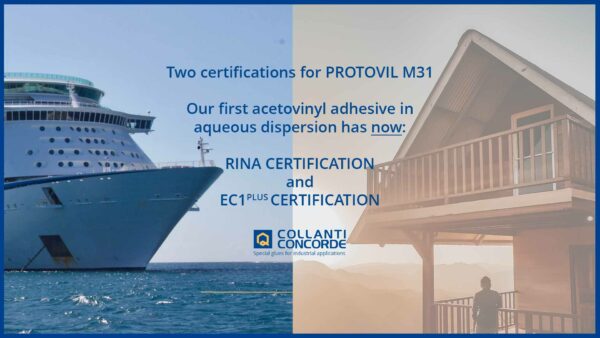 PRODUCT FEAUTURES
PROTOVIL M31 is a vinyl acetate glue in water dispersion with very high drying speed. It is specifically designed to give water-resistant bonds and that complies with EN 205/2016 D3 standards (contact us to request the certification).
CERTIFICATIONS
RINA
PROTOVIL M31 is a product with self-extinguishing characteristics certified by RINA according to Directive 2014/90/EU (MED) which was issued to increase the safety of sea travels and to counter sea pollution.
Its self-extinguishing characteristics make it suitable to produce products with flammability restrictions. In fact, the use of this adhesive does not contribute to the spread of flame in case of fire.
The Approval Certificate (Module B) and the Surveillance Module (Module D) are available, issued by RINA according to the European prescriptions (CE standards) and verified by international standards (IMO).
EC1PLUS
From July 2023, PROTOVIL M31 is an EC1PLUS certified product by EMICODE, the German association for emission control, which working in the building and consumer protection field. The EC1 plus is the premium class of certifications offered by the body and states that the product, once installed, releases the lowest level of emissions, VOCs (volatile organic compounds harmful to health) currently possible for products of this one.
APPLICATIONS
PROTOVIL M31 is an extremely versatile product and finds application in several areas:
manufacture of prefinished parquets;
honeycomb wood for furniture and doors;
parts of bathroom furniture;
parts of modular kitchens;
tops;
blockboards for cladding;
wood-to-wood gluing where good resistance is required to the water.
3 RECOMMENDATIONS FOR A PROPER USE: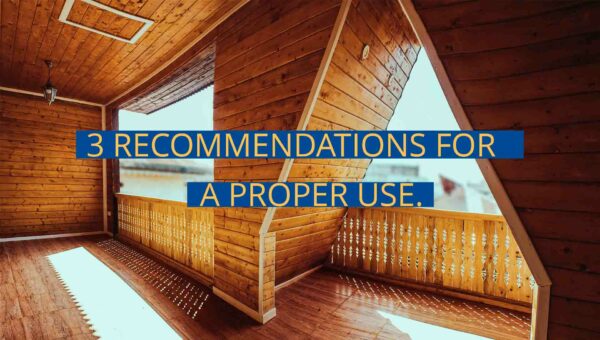 1. We recommend applying PROTOVIL M31 over the entire surface, which must have been previously cleaned and free of dust residue or release substances.
2. It is very important to respect the open time, which depends on the glue quantity, the temperature, the type, and the quality of the material to be joined.
3. To achieve optimal bonding, the parts to be bonded, once placed side by side, should remain pressed together for the necessary and sufficient time.
THESE ARE JUST A FEW OF THE RECOMMENDATIONS FOR A PROPER USE of the products.
For a complete list, contact us: our R&D lab will be available to advise you on all the best practices to use the product for your business.
Want to learn more about GEV products? Visit our dedicated page.
—
info@collanticoncorde.it
www.collanticoncorde.it
+39 0438 912121