The quality of the air inhaled has become progressively more significant than before, above all with the latest pandemic events, which made us spend more time indoors. Building our homes, our companies and offices with building materials that release a low level of VOC (Volatile Organic Compounds) are more important than ever.
For this reason, in this article. we want to talk about the classification system of GEV, the German association that certifies products, like adhesives, that meet very strict standards in terms of VOC emission, like coatings, adhesives, and sealants. 
We will underline also, which are the advantages of using these products in your company and which Collanti Concorde adhesives have achieved the GEV-Emicode certifications.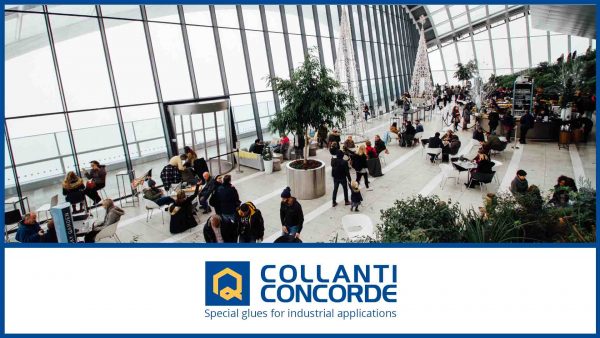 GEV: A REFERENCE POINT FOR THE CONSTRUCTION INDUSTRY
Founded in Germany in 1977, GEV is an association for the control of emissions working in the construction industry and consumer protection. GEV aims to safeguard employees, final consumers, and the environment by providing a certification system for building products like adhesives, which release a low level of VOC after their installation.
GEV is a worldwide recognized association and a reference point for construction companies, artisans, architects, and designers. Address to GEV to find the right suppliers for your company means choosing advanced products and looking into the future of the construction industry.
GEV CLASSIFICATION SYSTEM
GEV divides the building materials into three classes of emissions: EC2, EC1, and EC1PLUS.
The class EC2 is the basic one, which satisfies the minimum requirements in terms of emissions.
The class EC1 states a very low level of emissions, so it satisfies very strict requirements.
The last one, EC1PLUS, states the lowest level of emissions that is scientifically possible to reach today.
Once a product is included in one of the three classes and gets the certification you have to keep working to guarantee a low level of emission to still have it.
Very often GEV does strict random inspections in the companies. If there are repeated violations, the certification can be called off. In the most serious case, there could be a permanent exclusion for the company from GEV.
WHY YOU SHOULD CHOOSE GEV CERTIFIED PRODUCTS
FOR PEOPLE'S HEALTH
Today most people spend more time indoors, often in spaces poorly ventilated. For this reason, is important choosing GEV products.
FOR THE PLANET
Fortunately, the construction industry is starting to turn "green". In the future, the costs of building will be based also on the material used in the construction phase and the use of polluting substances will take to a devaluation of the property considering the costs of disposal.
TO BE MORE COMPETITIVE IN THE MARKET
Every time more calls for tender require at least certification EC1 to participate. Moreover, programs like LEED, DGNB, and BREEAM foster the use of GEV-EMICODE products.
GEV-EMICODE COLLANTI CONCORDE PRODUCTS
We are proud as Collanti Concorde to say that three of our adhesives have EMICODE certification.
We started certifying our product in 2021 when we obtained certification EC1PLUS  which states our product PROTOVIL 2821, EXTRAPUR e il DELTAVIL 440/C release the lower level of VOC  today possible.
Protovil 2821 is particularly suitable for masonite, chipboard panels, and other absorbent substrates with impregnated papers or PVC sheets. It is suitable for bonding room and office furniture.
Deltavil 440/2c is used for the production of raised floors for offices and commercial spaces.
Finally, Extrapur is suitable for caravans, curtain walling, cold chambers, insulating walls, and insulated doors. It requires at least one substrate must provide moisture to the glue line.
Find out more about our GEV products by visiting our webpage by clicking here.
Are you curious about testing one of our GEV products?
Contact us; we will give you all the information!