In this article, we are going to present you one of our new innovative products, ISOBOND NO FIRE, a silane-terminated polymer. It is a low-pressure version and it is self-extinguish.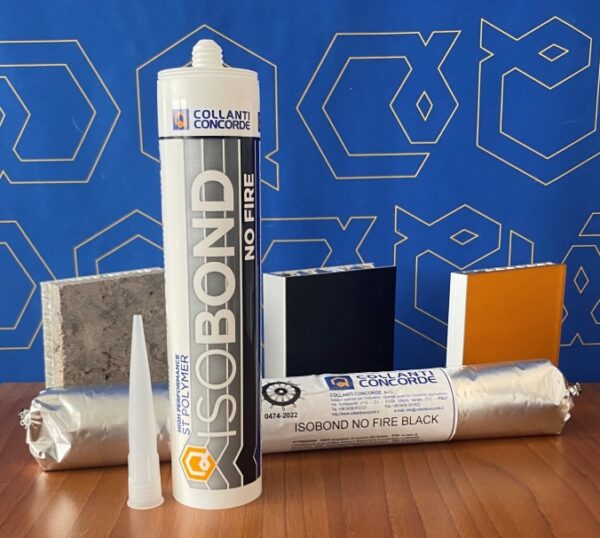 FEATURES  
This version of our adhesive ISOBOND: it is an isocyanate–free moisture based on silane polymer and is moisture-resistant.
It is available in white, grey and black, in a pack of 290 ml and/or UNIPACK of 600 ml.
APPLICATIONS
ISOBOND NO FIRE is used as an adhesive for the construction for interiors:
wooden floor coverings;
for the bonding of fire-resistant wall and ceiling panels;
plasterboard panels;
plastic laminate;
fiberglass;
metal structures;
bonding of structures subject to vibrations or materials with different thermal expansions.
In any case, it is necessary that at least one of the parts to be glued makes a contribution of water to the glue line.
 The self-extinguishing characteristics make it suitable for the production of products for which there are restrictions on flammability. The Approval Certificate (Module B) and the Surveillance Module (Module D) are available, issued by RINA according to the European prescriptions (CE standards) and verified by international standards (IMO).
MAIN FIELDS OF APPLICATIONS (ONLY FOR INDOOR USE)
  SHIPBUILDING
Marine equipment + furniture + refitting
Yacht
Boats
AUTOMOTIVE
Refrigerated vans
Buses
Trains
Planes
CONSTRUCTIONS INDUSTRY
Flooring
Doors and windows
Thermal and acoustic insulation
INDUSTRIAL APPLICATIONS
Sandwich panels
Fireproof doors and gates
Elevators
Are you interested in trying ISOBOND NO FIRE?
Contact us, we will give you all the information.